My friends Annaleah and Joshua used to do playback theatre with me. Their daughter Mary had had some issues at birth that caused her to have motor skills issues and speach issues. A sweeter soul you would never meet though.
I remember doing a playback rehearsal where I played Mary for one of Joshua's memories. He had spoken to us of how much he loved her and how close their bond was. He spoke also of the joy she brought to his life through the 'simple things'. The two of them used to go bowling all the time and that was HIS special time with her. I don't think I ever saw them apart...she was the light and joy of his life.

Two years ago Mary had a series of strokes and ended up in the hospital...she almost didn't recover. Eventually she did but you could see that her hold on this world was a bit more tenuous...she seemed almost transparent at times...ethereal.

Well, on September 23rd 2007 at the age of 23...Mary crossed over.

We had not been in close contact with Annaleah and Joshua for a while...although we saw them here and there and it was by chance (or design?) that Mark saw the obituary in the paper and called my attention to it. We saw it on Sat. and the memorial at there house was that coming Monday.

Suddenly I was 'taken by the muse' and had to begin writing. I finished the verse and some sketching on Saturday and painted the gift on Sunday afternoon. On Monday we attended the gathering at their house (found the house by chance too...since there was no address in the paper) and I presented them with this "Present of Mary"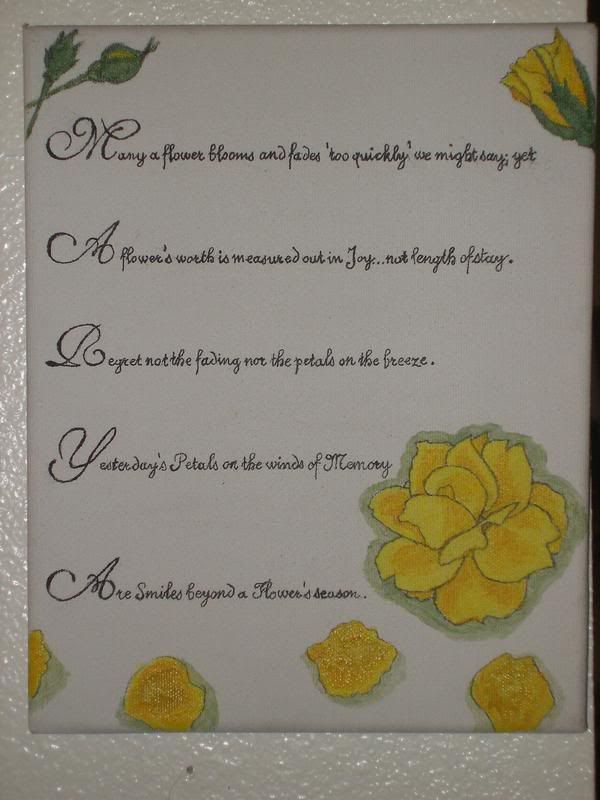 Many a flower blooms and fades ' too quickly we might say, yet



A flower's worth is measured out in joy, not length of stay

Regret not the fading nor the petals on the breeze.

Yesterday's Petals on the winds of memory

Are smiles beyond a flower's season.

- in memory of Mary A.